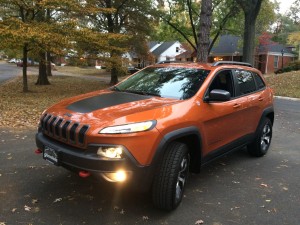 I recently started shopping for a vehicle to replace a 2008 Saturn Vue.  Frankly, if the good folks at GM still made these, I'd have bought another one but that's not an option.  I was leaning toward a Jeep Trailhawk and one Thursday with my wife out for the evening and my little guy in bed, I started searching local dealer offerings on the internet. I found one that was a 2015 model year with the equipment I wanted, close to home, and aggressively priced.  After talking with my wife early the next morning I clicked the "make offer" button on the dealer's website.  The interaction was a bit strange from the outset.  The response didn't acknowledge my offer but rather invited me in for an appointment.  I replied with a polite version of:  "it's 10:30 AM and if the offer is acceptable, I'll be there by noon with a cashier's check."   Another email or two resulted in the claim that the car was under recall and could not be sold until fix and further there was no fix.  Unbelievable.  Literally.  Fortunately, there is Google.  I replied with a "cut and paste" on the recall issue (seems Google believes there was a fix).  I got a response that just didn't make sense to me so I brought the email exchange to a close.  But it bothered me so I made a call or two and the answers varied.  This was starting to be a waste of time so I turned my attention back to work matters.
The next morning, it was still bothering me.  It was a few minutes after 9:00 AM so I decided to swing by the closest Jeep dealer, Glendale Chrysler, Jeep, Dodge, & Ram to see if I could get a straight story.  I met Ryan in service who walked me to the parts department and introduced me to Mike.  Mike had ready access to the recall information, printed the repair procedure for me, and told me he had the parts in stock.  But he also told me he could see that the fist dealer had the parts as well.  Mike said "let's see if one of our sales guys can help – let me make a call."  A few minutes later Zac Underwood came back to the parts department and Mike made an introduction.  I repeated the story (by now I was getting pretty good at it).  We walked to Zac's office and I pulled up the Jeep on line.  He said, "Will you offer us what you offered them and will you make a deposit today if we can get the vehicle?"  Easy question.  "Sure" I said.  He took the offer to his boss and quickly came back and told me that they would beat the other guy's price but my offer was just too low (I thought it was).  I threw out another number to which they said, "We gave you our best price – we want your business but we can't go any lower".  This really didn't surprise me.  We shook hands.  I gave them a deposit, met Carlo Merlo, President and owner, and was back in my car headed toward home only an hour after having left my house in the first place.
By 6:00 PM I got an email from Zac saying that they now had my Trailhawk on their lot – 9 hours from the time I got in my car with the intent of simply asking a question of their service department.  By 9:30 AM on Monday, Zac emailed to tell me it was ready for delivery.  I'll bet if I had told these guys I needed the vehicle on Saturday night they would have made it happen!
So, what's the point? Everyone in the chain did the right thing. No one sent me somewhere else; rather they made personal introductions along the way. They didn't give me stories; they gave me facts.  When I told them I was pressed for time, they respected that and cut to the chase.  If any one of the four people in this chain behaved differently, the outcome would not have been the same. The first person I met didn't know I was ready to buy that day and neither did the person at the parts counter.  But they provided excellent customer service anyway.  The result was the sale of a vehicle.
Think about this for a moment.  How many more cars and trucks will this dealer sell in a year because everyone is doing the right thing?  I don't really know the answer to that but I do know that I bought a Jeep Trailhawk from them last week as a result.  Notice that I said, "I bought" rather than "they sold".   They really didn't have to sell; they only had to allow me to buy.
I also know this is how the best companies behave and it shows up every month on their financial statements. Turn one customer into a fan every day and you'll look back after five or ten years and realize you have a great business.
If your business could benefit from fractional CFO services, I would welcome the chance to speak with you.  Please give me a call at (314) 863-6637 or send an email to [email protected] The archive of these monthly newsletters is posted at the Resources section of homza.com
your cash is flowing.  know where.®     Ken Homza    Copyright @ 2015 Homza Consulting, Inc.